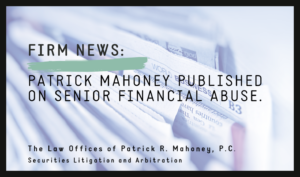 The Practising Law Institute ("PLI") published an article that Patrick Mahoney co-authored with Ryan Bakhtiari and Phil Aidikoff of Aidikoff Uhl & Bakhtiari discussing Senior Financial Abuse.  PLI published this content in its While Collar Practice Journal.  It published a second version in its Course Handbook for Securities Arbitration 2019.
The article covered FINRA Rules 4512 and 2165, which require broker-dealers and financial advisors to take steps to try to ensure their elderly clients are protected from Senior Financial Abuse.  This topic has gained relevance after a recent MetLife Study that concluded elders lose $2.9 billion annually financial abuse victims.  The study found that Baby Boomers control 70% of the nation's disposable income.  By 2030 one in five residents of the United States will be sixty-five or older.
Given these statistics, the article discusses efforts that FINRA and the state of California have undertaken to prevent further exploitation of seniors in the future.  And it explores the impact these rules have on financial advisors and other fiduciaries to the elderly.
See Trends in Preventing Senior Financial Abuse, Practicing Law Institute, Vol. 2, No. 1, Summer 2019.