What is the Financial Industry Regulatory Authority ("FINRA") BrokerCheck tool?
BrokerCheck (sometimes confused as Brokerage Check) is an online database, that provides Main Street investors with publicly available information about brokers and broker-dealers. BrokerCheck is an extension of the FINRA website.
Prospective investors can use BrokerCheck to (among other things) vet brokers and brokerage firms registered with FINRA (or firms formerly registered with FINRA).
The information provided on BrokerCheck about registered brokers and brokerage firms comes from the Central Registration Depository CRD licensing database, which houses securities industry registration and licensing information and professional and disciplinary information.
Securities firms must make disclosures (through Form U4 filings, Form U5 filings, and Form BD filings among other disclosure forms) to comply with reporting rules set out in FINRA Rule 4530.
(Editors note: To learn how to use BrokerCheck to search for specific brokers and/or registered securities firms and obtain FINRA BrokerCheck reports with the information described on this page, see our BrokerCheck "How-To" Guide.)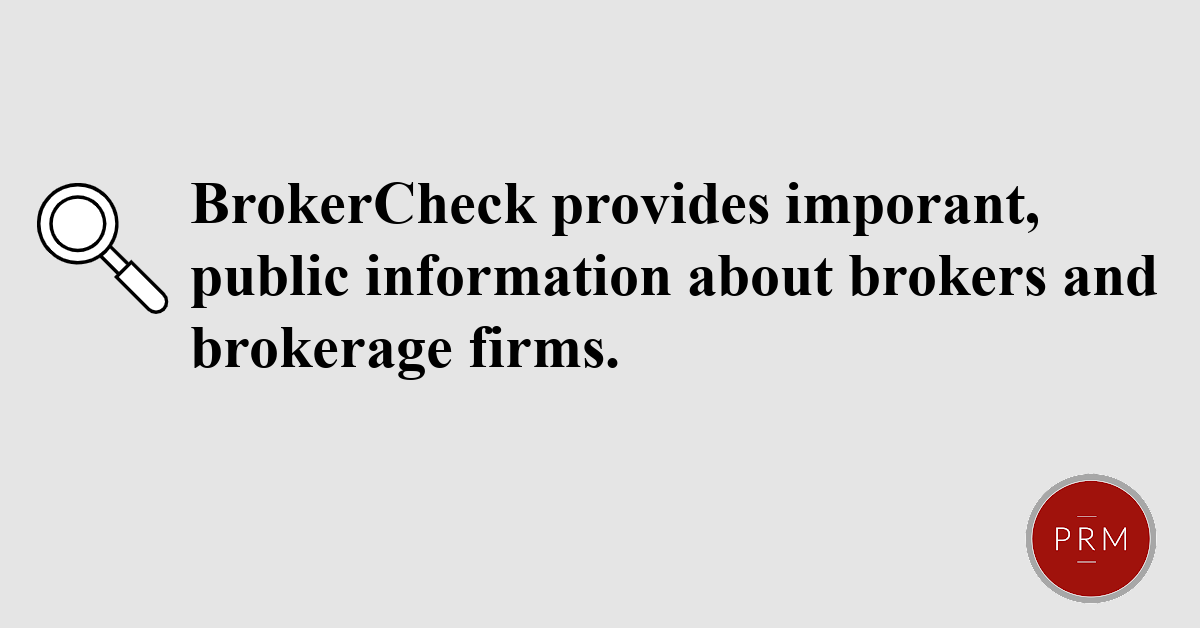 What information can you find about brokers on FINRA BrokerCheck?
Information available on FINRA BrokerCheck (populated from the Central Registration Depository) concerning individual FINRA registered representatives can be broken into three categories:
Broker Qualifications
Registration and employment history
Disclosure Events
Broker Qualifications
The BrokerCheck report summary covers licensing and registration information. The BrokerCheck report summary also provides all states in which in the broker is licensed to sell securities and licenses the broker holds with any self-regulatory organizations (SRO).
FINRA is an SRO that operates with oversight from the Securities and Exchange Commission. Given that FINRA is the primary SRO for the securities industry, brokers' "SRO" licensure is typically limited FINRA securities industry licenses.
The BrokerCheck detailed report summary also contains a brief overview of the securities industry qualification exams that the broker has passed through the  licensing process. The report provides categories of exams passed that include:
Principal/Supervisory exams passed: These exams provide licensure for those qualified to supervise the sale of securities or who may work as a principal of a brokerage firm. For example, the Series 9 and 10 are supervisory exams, and the Series 24 is the General Securities Principal Exam.
General Industry Exams: These exams are general securities exams that license individual brokers to sell different securities and financial products. The Series 7 is an example of a General Industry Exam.
State Securities Exams: These securities exams enable broker dealer representatives and investment adviser representatives to sell securities within a state. Examples of these exams include the Series 63 and 65.
Investors vetting a potential investment adviser representative or broker should ensure that they maintain the proper license to sell securities.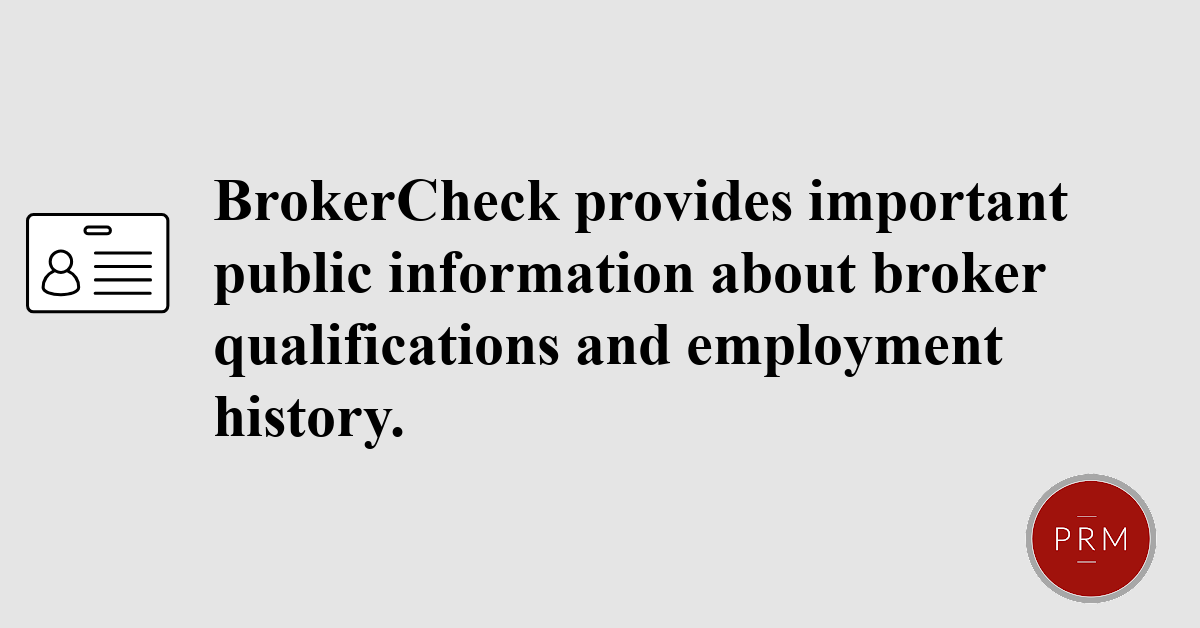 Registration and brokerage firm employment history
Brokers must hold their licenses with registered securities firms. This section of the BrokerCheck report covers the broker's employment history with registered broker-dealers. Users can view the history of the firms where a broker was previously registered from the date the broker acquired a securities license.
BrokerCheck also provides the broker's employment history including, firm history, firm name, where the broker worked, the positions held, and the locations where they worked.
BrokerCheck also provides information about other business activities. Brokers must disclose other investment-related business activities to make the public aware of any potential conflicts of interest and to protect against selling away.
Disclosure Events
BrokerCheck provides detailed information on 5 categories of disclosure events:
Customer Disputes including FINRA arbitrations or other civil judicial disputes
Termination Disclosures
Regulatory actions including any FINRA disciplinary actions
Financial disclosures
Criminal matters
Customer complaints or disputes refer to any written customer complaint (regardless of merit) in which the investor made allegations of wrongdoing directed toward the investment adviser firm or broker (for more information about what constitutes a reportable written customer complaint read our page covering FINRA Rule 4530). Examples of misconduct include, but are not limited to: Securities Fraud; Breach of Fiduciary Duty; Improper Asset Allocation; Churning and Excessive Trading; Failure to Supervise; Selling Away; Unsuitability; and Financial Abuse of Elders. It also discloses winning FINRA arbitration awards from FINRA arbitration proceedings.
IF YOU BELIEVE YOU HAVE BEEN THE VICTIM OF ANY OF THESE TYPES OF FINANCIAL MISCONDUCT
CONTACT US FOR A FREE CONSULTATION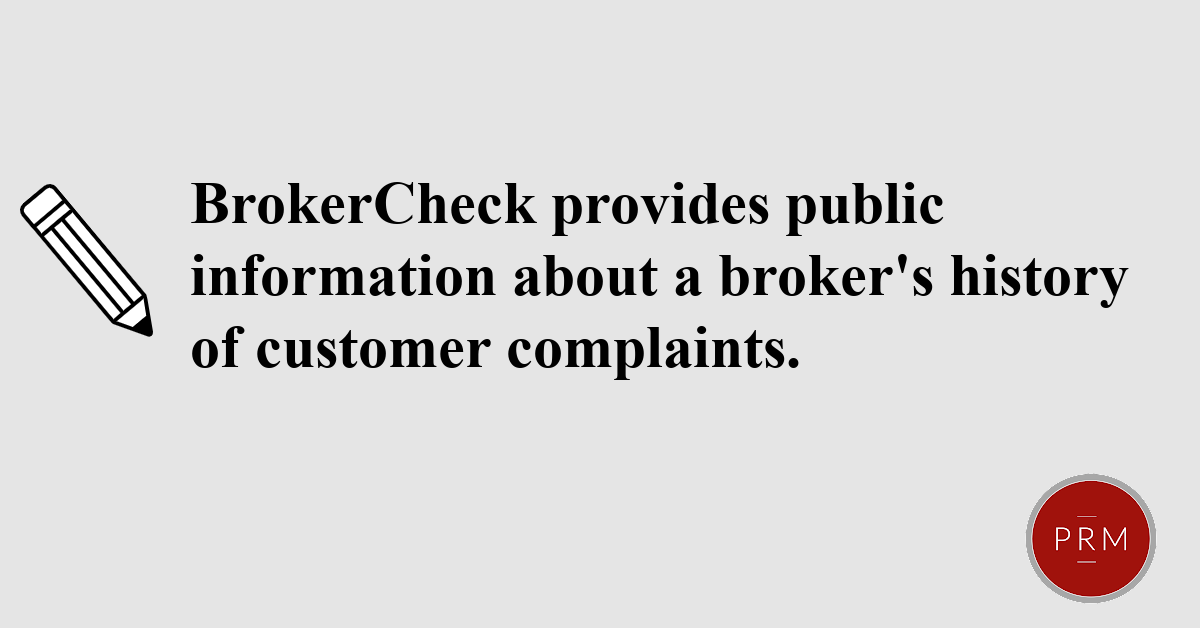 Notably, Brokers may seek removal of meritless customer complaints through FINRA rule 2080, which covers the FINRA expungement process. The FINRA expungement rules are changing, however, and it remains to be seen how those changes will impact the FINRA expungement success rate.
Termination disclosures found on FINRA BrokerCheck refer to any situations where a brokerage firm terminated a financial advisor for allegations of securities related misconduct or financial matters.
Similarly, regulatory actions including FINRA disciplinary actions appear on BrokerCheck. As do criminal matters including convictions or charges of any felonies, or any convictions or charges of truth related misdemeanors. For a more extensive discussion on the scope of these Disclosure Events, and securities industry online registration, please read our pages concerning the Form U4 and the Form U5.
What information can you find about a brokerage firms on BrokerCheck?
The information found on BrokerCheck (include the firm profile) relating to broker-dealers is similar to that for individual advisors and investment advisers. View our BrokerCheck "how-to" page for more detailed discussion on information included about broker-dealers on BrokerCheck.
Does BrokerCheck have information about investment adviser firms?
An investment adviser firm is different than a FINRA registered broker-dealer. Investment adviser firms are typically registered with the Securities and Exchange Commission (SEC) or a state securities regulator.
Investment advisers (the "er" spelling is on purpose) are different than FINRA brokers. Individual investment advisers work for adviser firms that the SEC as opposed to FINRA typically regulates. They register with the SEC by filing a Form ADV. Portions of the Form ADV are publicly available.
BrokerCheck maintains information about investment adviser firms as does the Securities and Exchange Commission's Investment adviser Public Disclosure website. The Investment Adviser Public Disclosure website
*The Law Offices of Patrick R. Mahoney is a full service law firm with extensive experience handling FINRA arbitration cases. This page is for information purposes only and does not constitute legal advice.