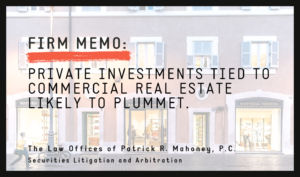 Private investments tied to commercial real estate and commercial mortgages will plummet (if they haven't already).  Investors exposed to these products should take notice.
What is a Private Investment?
Private investments are typically illiquid; meaning they do not have a public marketplace (like the New York Stock Exchange or NASDAQ) through which an investor can easily sell their private investment to convert it to cash.  Private investment is therefore inherently riskier than publicly traded investments, because if they lose value, there may be no escape.
Because of their risk, only qualified, sophistacated investors who meet minimum liquid net worth and income thresholds may invest in them.
Private investments tied to real estate often include (among others), Tenancies in Common ("TICs") and non-traded Real Estate Investment Trusts ("REITs").  Investment in private equity firms/funds and hedge funds may also expose an investor to private investment in real estate.
Private Investments Generate High Commissions for Financial Advisors and Brokerage Firms.
Typically, financial advisors are motivated to sell private investment offerings to investors because they generate high commissions, which can be 7% or more of the initial investment.  To put that commission into context, consider that many discount brokerage firms charge $0 in commissions on publicly traded securities.
The high commissions that private investments offer financial advisors have created an inventive to sell these offerings to wider range investors, including those who may lack the sophistication, risk tolerance, net worth, or investment objective to justify such an investment.
Before the Corona Crises, Private Investment in Real Estate Surged.
As reported in the Wall Street Journal's article from March 24, 2020 entitled Property Market Downturn Slam TPC Trust, Property Lenders, in the fourth quarter of 2019, REITs held $105.5 billion in commercial and multifamily mortgages, an 11.6% increase from a year earlier.  Private real estate debt funds meanwhile had $181.2 billion in assets under management as of June 2019, up from $33.5 billion at the end of 2010–a 540% increase.
The Corona Crises has slammed Commercial Real Estate and Commercial Property Values.
With government mandates throughout the country requiring storefronts and restaurants to substantially limit, or close their operations completely, retailers and restaurant owners can't make their rent payments; landlords in turn cannot make their loan payments; and lenders (non-bank lenders in particular) are left high and dry.
This domino effect has already crushed publicly-traded, mortgage REITs, which are tied specifically to the mortgages associated with commercial and residential real estate.  The Financial Times,  Wall Street Journal, and Barron's (among others) have reported on these falling mortgage REITs highlighting drops in:
Publicly-traded REITs tied directly to commercial real estate have also fallen dramatically, particularly REITs tied to regional malls and shopping centers.  Examples include:
Investors in Private Investments Tied to Commercial Real Estate are exposed to Serious Risk.
Given this implosion of the commercial real estate market that has revealed itself through public investments, it stands to reason that the underlying value of private investments in this sector are suffering as much, or worse.  Investors in private real estate offers are subjected to even greater risk that public investors in this space because of the illiquid nature.
If you are an investor with concern about your exposure to private real estate investments, you should consider discussing the issue with competent legal counsel.  If you would like to discuss your situation and potential for recovery of any investment losses, please contact us for an evaluation of your potential case.
*All figures are as of March 24, 2020.