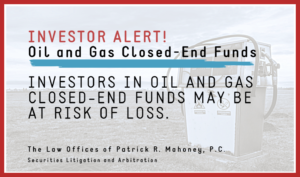 The Wall Street Journal recently reported in the article, The Oil Crash is Hitting this Investment Hard, "the plunge in crude-oil prices is sending shock waves through closed-end funds tracking the energy sector, highlighting how the market turmoil is hitting products popular with ordinary investors seeking to boost returns during the long bull market."
Goldman Sachs MLP and Energy Renaissance Fund have dropped 78% this month.  Meanwhile, the Kayne Anderson MLP/Midstream Investment Co.; Kayne Anderson Midstream/Energy Fund Inc.; the Tortoise Energy Infrastructure Corp.; and the Tortoise Midstream Energy Fund Inc. have fallen between 74% and 80%.
What is a Closed-End Fund?
FINRA describes a closed-end fund as type of investment company that pools money from multiple investors to buy securities.  They are similar to mutual funds in that the underlying securities it holds are professionally managed.  They differ from mutual funds in that they only offer a fixed number of shares through an initial public offering (IPO) that are then traded on an exchange.  Mutual funds, continuously sell newly issued shares.
Closed-end Funds and Leverage.
Also unlike mutual funds, closed-end funds often use leverage (i.e. borrowed money) to try to increase returns.  Investors seeking a higher rate of return, therefore may find closed-end funds desirable for that reason.  Leverage, however, exposes closed-end funds to greater risk in that if the value of the closed-end fund's assets decreases, the leverage can compounds the losses.
Levered Oil and Gas Closed-End Funds are exposed to cataclysmic risk.
With the dramatic decrease in oil prices, levered closed-end funds tied to oil and gas are getting crushed.  As the price in oil and gas continues to plummet, those levered closed-end funds exposed to oil and gas must sell assets at the worst possible to reduce their leverage. This compounds their losses.
Brokers and investment advisors have the obligation to ensure that any investments held in a customer's account are  suitable based on the customer's investment objectives and risk tolerance.  But when sectors like oil and gas experience significant price declines, securities tied to those sectors also declines, which leverage exacerbates.  And what may have been an appropriate investment a few months ago may now be inherently unsuitable.
If you are an investor with concern about your exposure to oil and gas securities, you should consider discussing the issue with competent legal counsel.  If you would like to discuss your situation and potential for recovery of any investment losses, please contact us for an evaluation of your potential case.