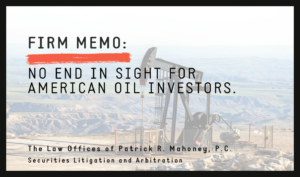 Russia and Saudi Arabia's oil price war rages on.  Both countries continue to produce oil, increasing the world's supply–so much so that that world is having trouble storing it.  And the longer this war rages, American oil producers' situation worsens on the heels of United States' recent coronation as the world's top oil producer.  The dual-fronted attack on American oil between the Russo-Saudi price war, and the collapse in demand for oil resulting from the Coronavirus Crisis,  American producers are stuck at the mercy of two, heavy-hitting OPEC members.
Until Russia and Saudi Arabia agree to limit their production to help shore-up the current oil glut, oil prices will continue to fall at a dramatic rate.  With oil prices staying below $30 per barrel, almost no mid to high-cost oil producer can profitably drill oil.  This includes virtually all American shale oil producers, who are principally responsible for the United States' emergence as the world's top oil producer.
From a geopolitical standpoint, squeezing the United States' oil production may be in Russia's interest as one of the United States' primary economic and political rivals.  And what better time than now?  When Russia knows the current Coronavirus pandemic can exponentially exacerbate a supply squeeze.   Both Russia and Saudi Arabia have dug in, each indicating that they have the foreign exchange reserves and the willingness to continue to withstand sub-$30 oil prices.
What does this mean for American oil investors?  With the oil price war raging, oil surpluses mounting, and demand for oil plummeting, American oil producers and transporters look poised to continue to suffer significant losses.  This puts investors who are over-concentrated in oil and gas investments exposed to significant losses.  This includes, among other things, stocks tied to oil and gas, closed-end funds tied to oil and gas, structured notes tied to oil and gas, and Master Limited Partnerships tied to energy.
If you are an investor with concerns about your exposure to oil and gas securities, you should consider discussing the issue with competent legal counsel.  If you would like to discuss your situation and potential for recovery of any investment losses, please contact us for an evaluation of your potential case.